Your branded assets are the physical representation of your brand in the market. And you have probably devoted significant time and energy to make sure your brand is consistently applied to assets like signage, printed materials, products and packaging, and digital spaces.
But if a distinctive, large-scale rebrand project is on your roadmap, you're likely feeling some anxiety about how to achieve a successful result. And you probably have more questions than answers on how to proceed. How much will it cost? Which vendors have the know-how to complete the project, let alone the expertise to do it well? Are there rules and regulations that might apply to your industry's unique assets?
You don't have to answer these questions on your own.
From aircraft to high-rise illuminations to interior branded environments, BrandActive has done it all. Our brand application specialists are adept at researching and sourcing the best materials and methods to use in each scenario. We spec out various options that capture the essence of the brand, create prototypes to test all variables, and leverage our extensive network of vendors and technicians to create a final product that is on-brand, impactful, and durable—and installed perfectly.
Today we'll walk you through four of our favorite branded asset projects to give you a glimpse of what's possible. We hope these examples inspire you to imagine what your company could accomplish with the right implementation partner at your side.
The sky's the limit: rebranding an aircraft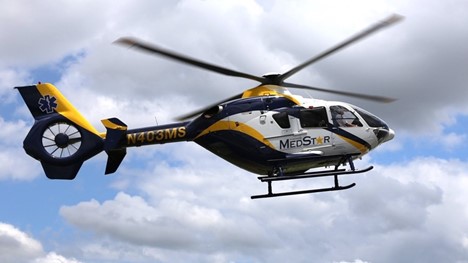 When MedStar Health asked us to update their branded helicopter as part of their overall rebranding, we were excited to take on the challenge. Branding aircraft involves many intricate details, from understanding the FAA regulations that govern what materials can be used and obtaining the appropriate certificates to apply those materials, to understanding what products will work on fixed wings versus rotaries. What's more, the cost involved with rebranding using traditional painting methodology is significant. So, MedStar asked if we could find a solution that would reduce the $100,000 price tag associated with repainting their aircraft.
We set out to find the perfect solution that would reduce cost while also complying with complex FAA regulations. After several weeks of research, we found a vinyl product that would produce the visual look this client wanted while also meeting the FAA certification guidelines for application.
The good news? That vinyl solution came in at a fraction of the cost to repaint.
The bad news? It was such a custom solution that there were no vendors in the area who could apply the vinyl to the aircraft.
Thankfully, through the power of the BrandActive vendor network, we received a referral for a vendor who specializes in this exact niche area of expertise and who even participates in vinyl wrapping competitions all around the world. Finding this vendor was the crucial last step in taking this project across the finish line.
Our takeaway? Branding this helicopter required extensive research, creative problem solving, and a timely referral. But our team was up to the challenge and delivered a final result worthy of the project's scale.
Using illumination to expand brand impact
Why use illumination as a branding tool? One of our lighting partners say it best: "Illumination is responsible for 0% of your brand during the day, but 100% of it at night."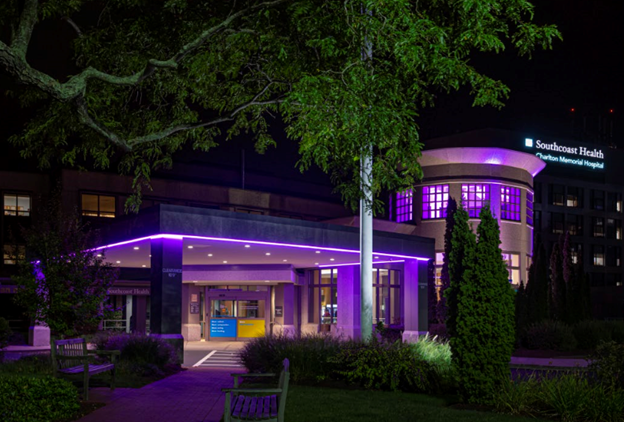 After seeing the potential for expanding their brand awareness through creative lighting, Southcoast Health approached BrandActive to create an ambitious lighting plan that would launch at one campus and then expand across multiple locations.
BrandActive conducted extensive research to find LED lights that would stand the test of time and illuminate all areas of the desired surface — even if that surface happened to be seven stories high! We partnered with local vendors to install the lights, hide wires, and connect all systems to remote timers that function seamlessly across locations.
This advanced lighting system distinguishes Southcoast as a night-time landmark for highway travelers and creates a welcoming atmosphere for patients and visitors who arrive after dark. But it also offers Southcoast flexibility to champion certain causes by using lighting to raise awareness for cancer research or Alzheimer's disease or other health concerns by matching the causes' color.
Bottom line? Lighting can tell a story in ways that other assets cannot. And, it is worth the financial investment due to its high impact. Whether on a grand scale like Southcoast's installation or on a smaller scale, consider how using lighting can illuminate your brand in new ways.
Transforming a hallway into an immersive brand experience
Take a stroll down the newly branded hallway at Mount Sinai Health System, and you'll find much more than door numbers and standard wayfinding signage. Instead, you'll be immersed in a visual representation of Mount Sinai's mission, values, and key initiatives.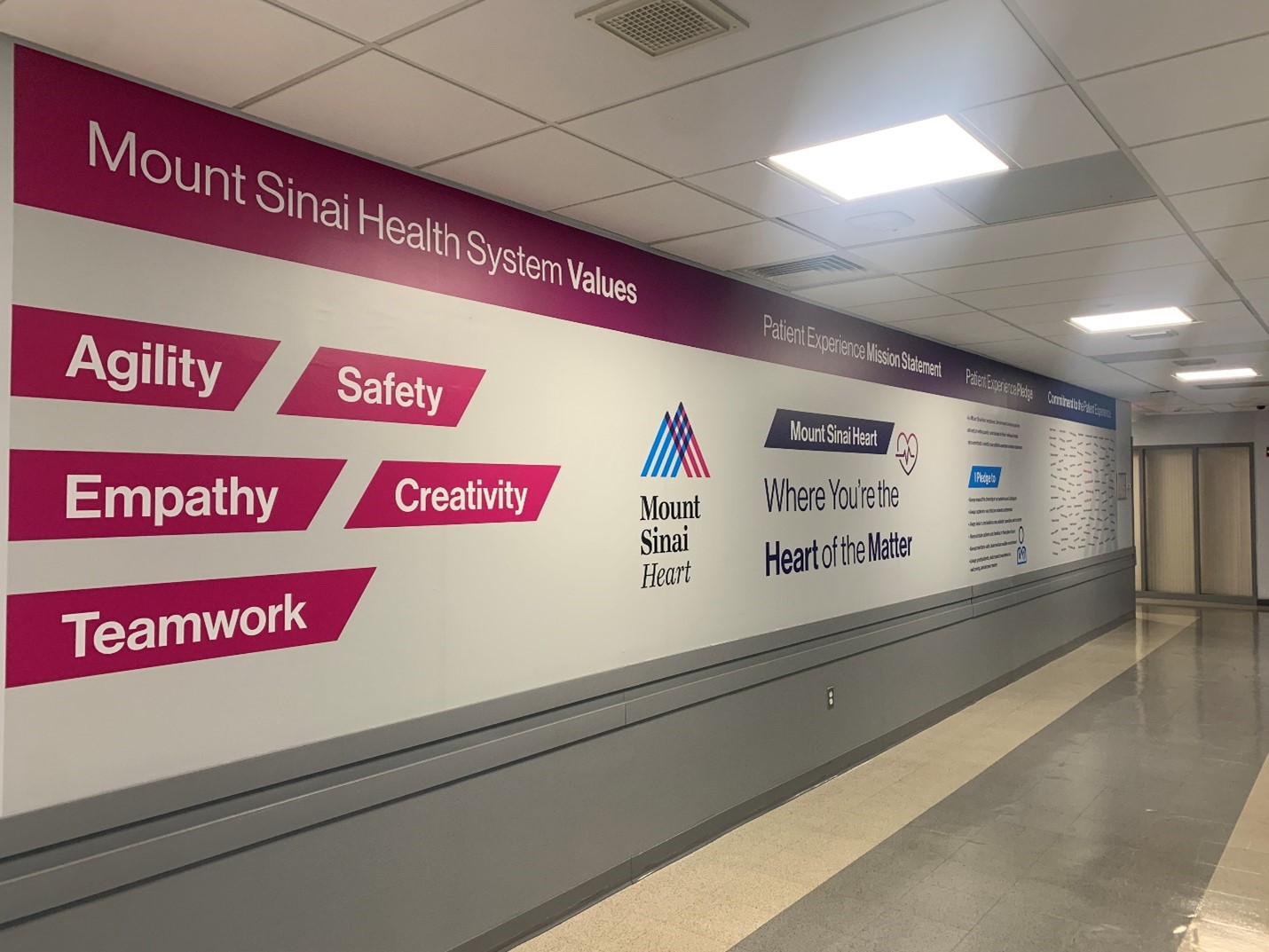 For employees, patients, family members, donors, and investors, this compelling display reinforces that Mount Sinai will not only meet each person's medical needs, but they will also do so in their unique style and in alignment with their overarching mission.
To successfully complete this project, BrandActive spent time researching Mount Sinai's goals, understanding their audiences, and mocking up several options. We were careful to utilize materials that would endure in a high-traffic environment and retain vibrancy for many years.
The final product is both welcoming and engaging. And Mount Sinai continues to receive positive feedback from their stakeholders about the educational impact of the experience.
Leveling up the quality of branded apparel
While most branded asset inventories include apparel on the list, you might not think of branded apparel as an opportunity to make a larger-than-life impact
But for Mass General Brigham — the largest employer in Massachusetts with 16 integrated health systems and 74,000 employees under a new brand umbrella — branded apparel makes quite a significant impact in terms of brand awareness and recognition in the market.
So, when the marketing team found that the Mass General Brigham logo did not hold up across all its apparel lines, they reached out to BrandActive to help solve the problem. Mass General Brigham wanted a long-lasting, great-looking product that their employees would be proud to wear.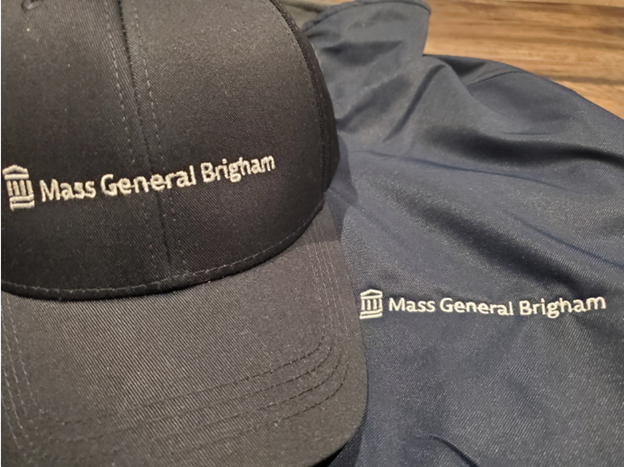 Again, we began with research. We needed to fully understand where quality was breaking down in order to find a solution. We found that, due to the number of characters in the Mass General Brigham logo, the logo was inconsistently applied depending on the vendor.
Why? It all came back to one key element: embroidery.
Once we determined that embroidery was the issue, we could recommend vendors that were able to meet the unique specifications of the project. The final result? Beautifully branded apparel that holds up to frequent wear and is consistent across all 16 health systems.
Is it time to use a unique branded asset to tell your story?
In today's busy world, we're all competing for one of the most highly sought-after commodities out there: attention. That's why it can be beneficial to think beyond the typical approach to rebranding assets and identify new, impactful ways for telling your brand's story.
So, if you have an audacious, exciting idea of your own, contact us. We'd love to help you turn your vision into reality.