Marketing
and Brand Operations
Has there ever been a better time to dive into how and what you spend on your marketing and achieve year-over-year operational savings?
Do your marketing and brand operations maximize your speed to market, brand consistency, and resource efficiency? Whether you're considering refreshing your positioning, looking to rebrand, or wondering how you can use your day-to-day marketing dollars and branding budgets more effectively, we're here to help.
Leveraging  best practices. Modelling future states. Exploring the latest technologies. and prototyping possibilities. The result is repeatable, sustainable improvements in marketing and brand operations that deliver savings year after year, and provide a consistent and agile customer experience that reflects your brand strategy.
And if change is on the horizon, it's essential to understand the marketing and brand organization you currently have—and take steps to streamline approaches for efficiency and long-term success, enabling your team to hit the ground running when the time comes.
Case Study:
Centura Health
Unlocking Operational Improvements and Savings While Improving Brand Impact
BrandActive has been supporting clients in maximizing their marketing and brand operations for more than two decades. This experience has led to a formalized, standalone solution that we call MBO (Marketing and Brand Operations).
Our services include:
Opportunity Analysis
Current state assessments and future state modeling
Brand governance assessment
Marketing technology assessment requirements and implementation support
Branded Asset Optimization
Branded asset audit
Vendor and agency rationalization, management and selection processes
RFP and procurement management and execution
Integrated Program Management
Large scale collateral conversions
Specialized support for marketing and brand programs and campaigns
Process Redesign and Implementation
Marketing and brand process review, redesign and implementation
Brand training and help desk set-up and support
Snapshot of sample deliverables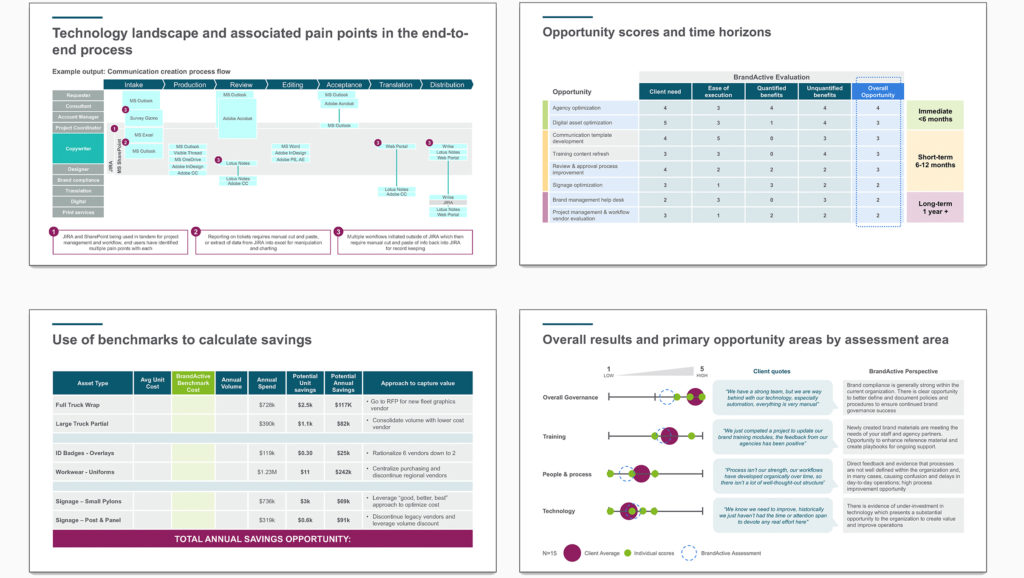 Get in touch to learn about our process